Self-Register in WebDMC
Self-Register in WebDMC
Search For a Course
STEP 1: Once you're logged into WebDMC, click on "Register for Sections"
STEP 2: Then click on "Search and register for sections"

Use the dropdown boxes to select your search criteria, such as term (semester), subject and course number.
Using your degree plan, enter the subject and course number, or you can search by course subject only (ex: ENGL 1301 or just ENGL).

Your search criteria will allow you to choose the preferred timeframes, days and campus locations.
Once you submit your search, you will see the applicable search results.
Search tips:

Use less specific search criteria to find more results.
Search for course number instead of course level if possible.
Search by term or date range, but not both.
---
Enroll in a course
STEP 1: Double-check that the course fits your schedule. If you want to enroll in the course, click the "Select" checkbox.
STEP 2: Once selected, scroll down the page and click "Submit".
STEP 3: Once submitted, the courses will be stored until you select "Register" or "Remove from List". After you make your decision, click "Submit" to enroll in your preferred course(s).
Congrats, you're enrolled! Make sure to make payment arrangements to avoid being dropped from your course(s).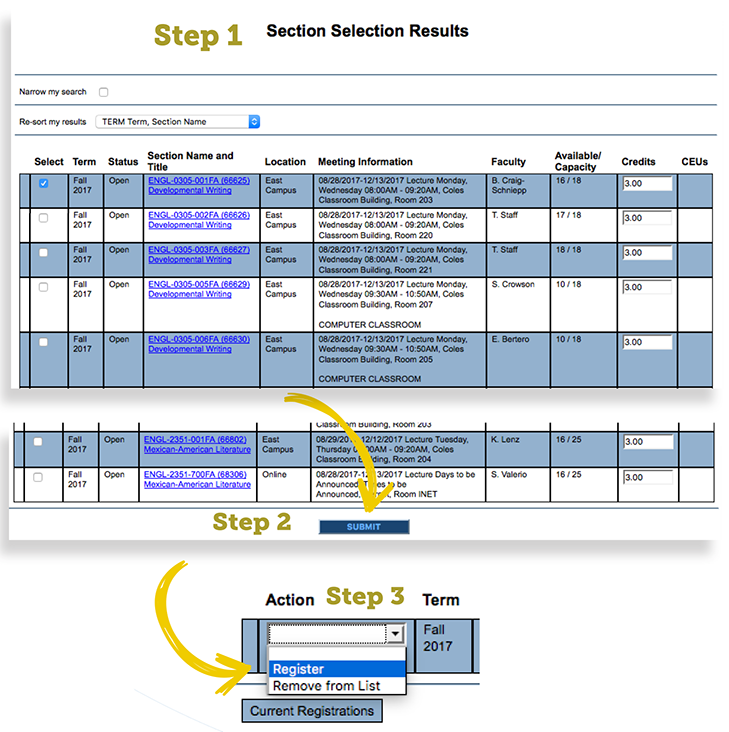 Page last updated February 23, 2021.