News & Events
News & Events
DMC Curricular Enrichment Film Series
The Del Mar College Curricular Enrichment Film Series presents Ox-Bow Incident. This film is part of the History in Film Series & the MAS Film Series. It will be presented by Liz Flores & Jim Klein from the DMC Social Sciences Dept. Join us in room 530 of the William F. White, Jr. Library on Wednesday, February 20 @ 3 pm.
Video Game Night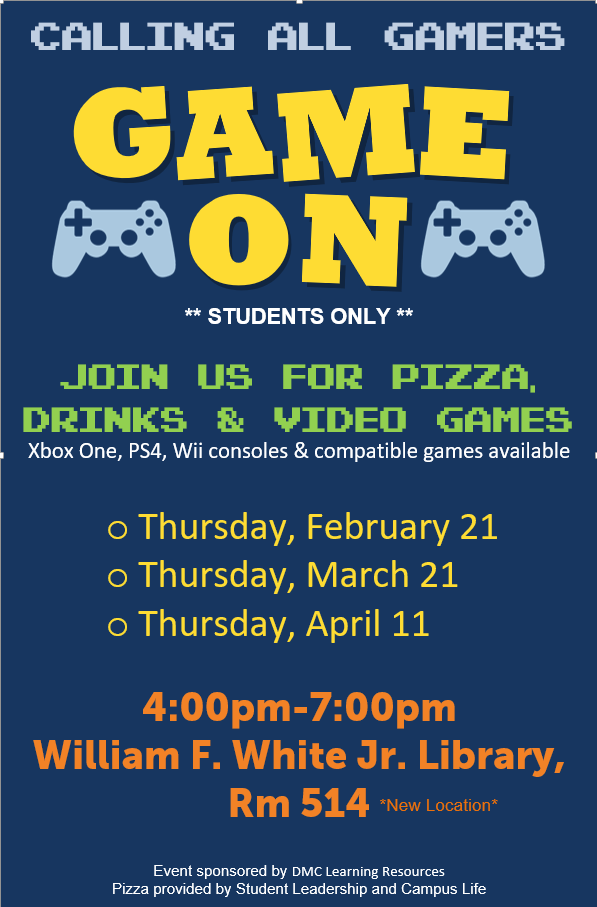 CALLING ALL GAMERS!
Del Mar College Libraries will host Video Game Night again this semester!
Join us for pizza, drinks & video games on the following dates:
February 21
March 21
April 11
from 4:00 pm - 7:00 pm
at the William F. White, Jr. Library, Rm 514 (new location)
Students only
Xbox One, PS4, Wii consoles and compatible games available
Event sponsored by DMC Learning Resources
Pizza provided by Student Leadership & Campus Life
DMC Poetry Series
The Del Mar College Poetry Series presents the 2018 Texas Poet Laureate, Carol Coffee Reposa
Tuesday, March 5, 2019 @ 2:30 pm
Del Mar College East Campus
William F. White Jr. Library, Rm 514
Sponsored by DMC Learning Resources, DMC MAS, DMC Dept. of English & Philosophy
Free and open to the public. For more info call (361) 698-1311 or email aberecka@delmar.edu
Page last updated February 18, 2019.