Surgical Technology
Surgical Technology
Associate in Applied Science Degree
Available at: West Campus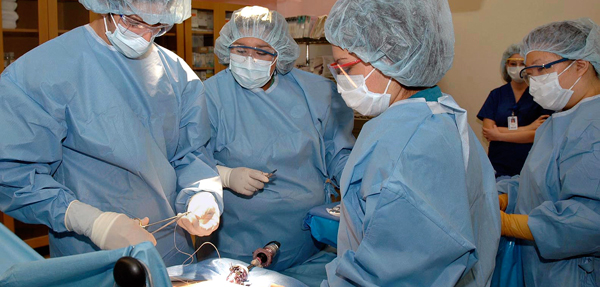 Program Overview
This one-year program leads to a Certificate of Achievement and/or an Associate in Applied Science Degree in Surgical Technology. Graduates have a knowledge of surgical aseptic technique and application: familiarity with surgical procedures, anatomy, physiology, microbiology, pathology and the ability to meet the needs of the surgical team in areas where they are qualified.
curriculum
While there is no Surgical Technology degree above associate level that graduates might transfer into, the classes (other than SRGT classes) transfer toward more advanced degrees for those students wishing to continue their education in Nursing or other fields.
Accreditation
The Surgical Technology program operates under the standards of the Accreditation Review Committee on Education in Surgical Technology and Surgical Assisting (ARC/STSA). It is accredited by the Commission on Accreditation of Allied Health Education Programs (CAAHEP), 9355 - 113th St. N, #7709, Seminole, Fl 33775, (727) 210-2350, Fax (727) 210-2354, mail@caahep.org, www.caahep.org. Graduates of this program are entitled to a Certificate of Achievement and are eligible to sit for the national certification examination. Those students passing the examination become Certified Surgical Technologists (CST). Certification is accepted in all 50 states, and is good for two years between renewals.
*Students should be aware that in the state of Texas, the law dictates that hospitals are now required to hire only Certified Surgical Technologists, and only graduates of accredited Surgical Technology programs, like the one here at Del Mar College, are allowed to sit for the national certification exam. If you are considering a career in Surgical Technology be sure that the program you enter can offer you a path to certification upon completion.
As required by 34 CFR 668.43(c): Del Mar College has not yet made the determination if the curriculum of this program meets the educational requirements for licensure or certification in any U.S. Territory or state other than Texas.
Careers
Page last updated May 2, 2022.