Closed Captioning Program
Closed Captioning Program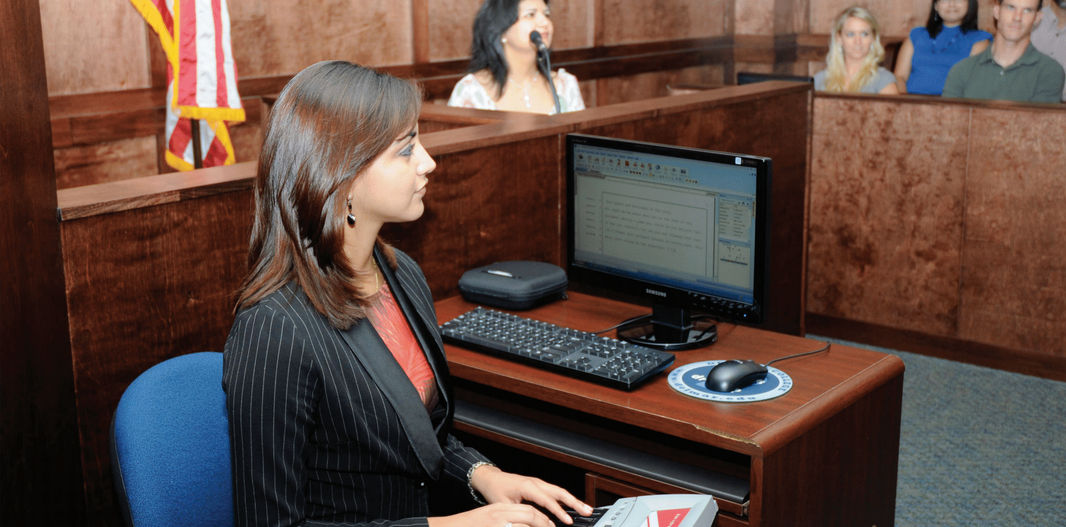 You might not realize how important realtime writers' and captioners' roles are when watching your favorite television program, news or sportscast. But for individuals who are hearing impaired, closed captioning is their window to the world when the words to audio that most of us take for granted show up on the screen.
Another benefit of closed captioning is helping speakers of other languages learn English when they see and not just hear what's being said.
Thanks to a Congressionally-directed $381,000 grant through the U.S. Department of Education's Fund for the Improvement of Post-secondary Education (FIPSE) and the assistance of U.S. Rep. Solomon P. Ortiz, Del Mar College's Court Reporting Program in the Department of Business Administration will expand its offerings. The funds will allow the College to develop and offer a new closed captioning program and acquire more equipment and advanced technology, expand facilities, recruit and train more students and offer scholarships to individuals interested in the field.
"100 percent of what you see on television is required to be captioned, and we don't have enough captioners to fill this demand," says Darcy Gohlke, DMC professor of court reporting.
Funding to develop and implement a DMC closed captioning program runs Aug. 1, 2009 through July 31, 2011.
According to the U.S. Federal Bureau of Labor Statistics' Occupational Outlook Handbook 2008-2009, court reporter employment will grow 25 percent through 2016 due to "increasing numbers of civil and criminal cases, coupled with federal telecommunications legislation that requires television captioning and the increasing demand for realtime communication access for people who are deaf and hard of hearing under the Americans with Disabilities Act."
Based on that assessment, the bureau predicts that job opportunities for court reporters are expected to be excellent, noting that openings will probably continue to outnumber job seekers.
"Because of that increased demand for court reporters due to the need for closed captioners, we're excited to receive the Congressionally-directed funds to add a closed captioning component to our current program," says Gohlke. "Del Mar College students will not only receive training but have expanded career opportunities." She says that the program will also address realtime writing for the Internet, or Webcasting, as well.
Gohlke notes that former Del Mar College court reporting students have already provided closed captioning services, including 1995 graduate Kim Kolpack, who captioned election returns and other shows for NBC and CBS as well as worked for PBS, A&E and MTV. In 2004, former DMC student Marie Bryant provided the captions for the Super Bowl.
The National Court Reporting Association reports that salaried positions for broadcast captioners can range from $45,000 to $75,000, and independent contractors can earn from $36,000 to more than twice that amount depending on the number of on-air hours. Communication Access Real-time Translation, or CART, reporters can earn between $35,000 and $65,000 per year.
In a July 28 news release distributed by Rep. Ortiz's Washington, D.C. office, the Congressman stated, "This program will serve students by offering training that was not previously available at Del Mar. This money will teach students about closed captioning and how it is done, while serving the needs of our hearing-impaired in the Coastal Bend community."
Gohlke agrees, adding, "Del Mar College will offer the training necessary for students in our community to fill this need by offering training previously unavailable for a profession where jobs are available, serving employers to fill open positions with skilled and trained employees and filling an identified gap in service for the hearing impaired and broader communities who benefit from realtime writing and captioning services."
Page last updated September 11, 2020.